The XBOX on their official release notes have mentioned that the Starfield will be available on cloud gaming but Xbox one users are not able to play the Starfield on Cloud Gaming. Which is quite annoying to see. The cloud gaming is supposed to work with Starfield and many users are already enjoying playing it.
But recently some Xbox one users are reporting that even after having an active Game Pass subscription the Starfield is not loading on the xbox One. Sine the release of Starfield many issues are reported with the Game Many Xbox  are reporting issue that the Starfield Starfield cloud gaming not working.  One user reported
" Now all the sudden I can't play Starfield on Xbox one cloud Gaming. So dumb."
Why starfield cloud gaming not working ?
If you are using Xbox one Console then please note that the Starfield cloud gaming is not supported for Xbox One but only on Xbox Series X|S, The game is not compatible with last gen consoles.The release notes from the Xbox is shown in the photo below. Also only an account with an active Game Pass Ultimate subscription can play Cloud Gaming.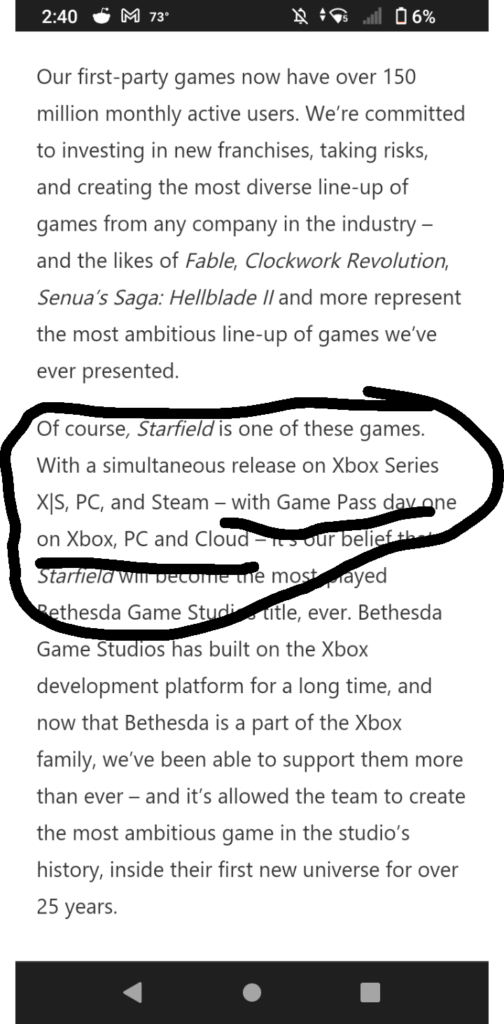 One user commented:
"You can only stream it from the cloud but it is kind of crazy that Microsoft did not build the game for the Xbox One X which is probably more powerful than the Xbox series S"