After updating to latest aMany MacBook users are facing issue while adding tags to a photo. It was working with macOS BigSur , but after updating the macOS to latest Monterey update, it is showing error code 8076. The error is reported while tagging a photo or a music files and it failed with error code -8076. Even while selecting the images Mac is showing error -8076 which is annoying.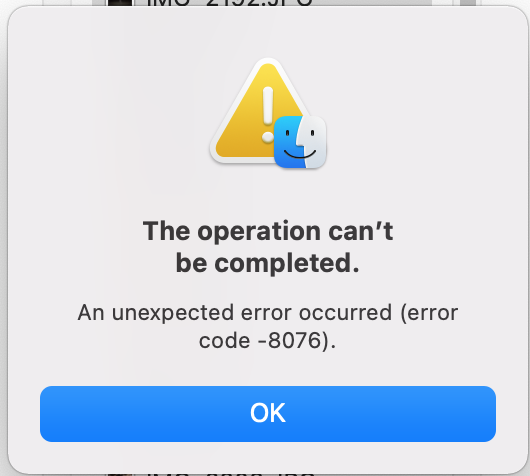 The operation can't be completed. An unexpected error occurred (error code -8076).
Not only older MacBook but also 2021 MBP with 32GB memory M1 are reported with this issue.
The issue is not acknowledged from Apple and lots of users are affected by the issue. In case you are also facing this issue then place try below general troubleshooting step and see it they helps.
Troubleshooting Steps:
Reboot MacBook: Due to some software glitch error code like -8076 may start to appear on the Mac. To fix that try rebooting the MacBook and usually a normal reboot fixes such issues.
Update Your System : As the issue started after updating to Monterey update and there are high chances that the issue is linked with the Monterey update. Such software bugs are corrected with future software updates, and security and compatibility features are maintained with updates too. Make sure that all your apps are unto date and keep updating MacBook to new version of macOS.
Run Disk Utility First Aid : Most of the files related issues are linked to hard drive or permission related. Hard drive issues can often be solved with the built-in Disk Utility app on your Mac. The First Aid function of Mac can repair issues in a storage unit and help you diagnose problems as well.
Clear System Caches and Remove Junk Files: Deleting cache files of program can also help.
– Open the Finder. Click on Go > Go to Folder…
-Type in Library/Caches/
-Click on Go.
-Open each folder and choose what to delete.