How to Disable Swipe Left to open Camera in Lock screen : iPhone
Disable Swipe Left on iPhone lock screen ?
Some iPhone users are facing accidently opening camera from lock screen. iOS 16/17 and all iPhone model supporting latest iOS like iPhone 14/13 Pro max, iPhone 12,XR,XS ,11, 8 plus  lets user open the camera app from the lock screen simply by right swiping it.  The iPhone needs not be unlocked and the camera app can be opened from the lock screen simply by left swipe.
Using iPhone is great experience for its users but such issue makes life hard for the iPhone users. Accidently left swipes keeps turning ON camera in pocket /purse and it also caused battery drain. So many iPhone users are looking to disable camera swipe from lock screen. As it would be great to turn off or disable to Left Swipe on iPhone Lock screen to avoid opening camera.
Disable iPhone Left Swipe on Lock screen to Open Camera
How to disable swipe left on iPhone lock screen : iPhone 14,13,12,11,XS,XR/iOS16/17
Surprisingly the iPhone camera does not allow to disable swipe left on iPhone lock screen this is not allowed from Apple and there is option or setting provided by Apple to disable or turn off swipe left on lock screen to open camera. However there is a workaround that will disable this feature, we have listed the workaround below in details. Also note that if you are only worried that camera is turning on in pocket that you can use easy fix, which is to turn off Raise to wake in Settings, Screen & Brightness. Check Tap to Wake is not activated in Settings, Accessibility, Touch.
For permanently disabling the iPhone from lock screen please read below:
There is a workaround available to Disable swipe left to open camera app on iPhone. The solution is bit tricky and you will have to put effort every time to open the iPhone camera. To remove camera from iPhone left swipe you have to disable the camera completely. This means to take a picture; you have to go back into settings and turn it back. To disable the iPhone camera please follow below steps
How to Disable the Camera on an iPhone :
iPhone does not provide a direct way to turning OFF camera, however we can use its Screen Time feature to control camera on the iPhone which will eventually will let you disable to left swipe on iPhone lock screen.
Open iPhone Settings App
Scroll and tap on Screen Time
Turn on Screen Time->This is my iPhone.
It will ask to set 4 digit PIN
After setting the PIN, it may ask for your Apple ID login.
Now On the Screen Time Page-> Tap on Content and Privacy restriction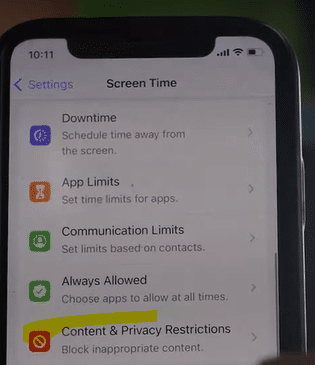 Tap on Allowed Apps -> It will ask to screen time PIN you just set earlier.
Disable the camera option
This will disable the camera from the iPhone. Please note that you won't ne able to access the camera now till allowed from Screen Time setting again.
So coming back to original issue, since the camera is turned off now on the iPhone, therefore automatically left swipe to open camera from the lock screen will get disabled.
Hope this article helps you to disable the camera from iPhone lock screen left swipe gesture. Please let is know in the comment sections.