How to fix "Compress to ZIP File" does not work ?
Windows 11 which is most advanced windows by Microsoft and rapidly grown its user base and is spread across world and billions of users have already upgraded to Windows 11. But recently some users are facing issue while using ZIP files on the Windows. The issue on Window 11 user "CAN'T OPEN or COMPRESS .ZIP FILES WITH WINDOWS EXPLORER".
The ZIP feature is great tool to compress large files and share them quickly but with the latest Windows 11 users are facing issue with it and "Compress to ZIP is not working". When you right click on a file on Windows 11 and select "Compress to ZIP File" it does not work, but third-party app like WinRAR or 7zip works normally.  If you do "Show more options", "Send to", and "Compressed (zipped) folder" does not work in the subdirectory of the Desktop.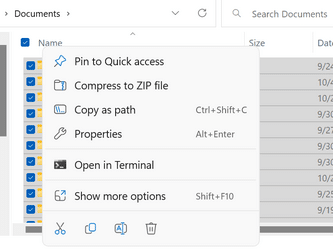 The issue is annoying as Absolutely nothing happens anymore when trying to compress (zip) folder on Windows 11. When you right-click -> Compress as ZIP file as well as Send to compressed (zip) folder, nothing happens. No matter how many times tried still the compress to zip is not working on Windows 11.
Why Windows Compress to ZIP not working ? : Windows 10/11
If you are not able to ZIP a file or folder in the Windows 11 then the issue seems to Registry patch that disables the new "Show more" feature of Windows 11 and displays the full list with a simple right click, just like in earlier Windows versions.
Fix : Unhide Compress Option
To fix ZIP Compress not working in Windows 11, please ensure to show the ZIP utility. Make sure once you do right click on the file-> use Show more options > Send To > Compressed (zipped) folder. Make sure to unhiding "Compressed (zipped) folder".
Fix : Check Registry
If the Compress to ZIP is not working then this could be due to  the ZIP file association may have been broken in Windows 11 due to any reasons. Normally, the default app for ZIP is File Explorer (explorer.exe). To fix this You can try downloading the REG file for ZIP in the table of option 2 (as shown here) to see if this fixes the issue.
If you still face ZIP compress related issue is PC/Windows 11 then it is recommended update windows to latest version to get patch fixes.